See Art Like a Painter Does: Bill Patterson's Spring 2010 Workshop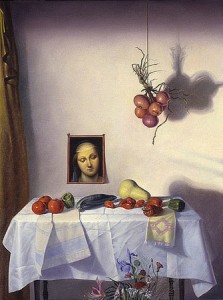 I want to tell you about this opportunity to take a painting class in Italy with a famous painter who just happens to be my friend.
Last year I had the pleasure of having Bill Patterson, contemporary realist painter, as my colleague. Bill's an amazing painter, a dedicated professor, and more importantly, he is a wonderful person. I think I have never met anyone so genuinely GOOD.
Bill also really loves Italy. Let's face it, he's retirement-age, and he's been coming to Italy for a long time, but he still approaches everything from the scenery to the food to the art in museums with the enthusiasm and appreciation of a first-time (but very informed) visitor. He's also someone who loves to learn from people he meets, and so was one of my most dedicated listeners when I felt I had to drone on about art history.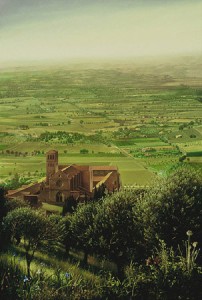 Similarly, although he's been teaching for something like 40 years (yup, just checked, he started in 1968), he prepares every painting class for hours, meticulously providing learning materials, setting up props and still-lifes, and even getting slightly nervous. In some ways I hope that I will be like that 40 years from now; on the other hand, I thought that teaching might become less hard work with time, but watching Bill proves that theory wrong. It could be easy for him, but he makes it difficult because he wants to give the best to his students.
Bill's own work amazes me for its meticulousness. In March I sat three hours for a portrait for him, and when I went behind the easel to take a peek I expected to see it just about done, but he'd barely sketched my face. He is still working on it now, because he keeps "fanning down" the oils and taking another shot at my chin. I've watched him throw out quick landscape oil sketches that he pooh-poohs as something crappy he made so as not to discourage his students, and think to myself how 99.9% of the world's population could only dream of producing something that good, even with a lot of effort. I particularly like his still life pieces that employ the technique, and embody some of the feeling, of Dutch Renaissance oils.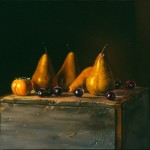 Bill's favorite place in Italy, as I understand it, is Assisi. I guess it is the Saint Francis factor. Since 1992, he has been holding painting workshops in Italy that take place mostly in and around Assisi, with some trips to Rome and Florence. These workshops are an opportunity to learn from a true master of the paintbrush, not only on canvas, but also in museums and churches, where if you follow Bill around you'll learn to see things in a different way - like a painter sees them. If you don't paint (but perhaps your spouse does), not to worry - you can come along to photograph, journal, and just experience the place. You can work at any level - one thing Bill offers so generously is personal feedback. The course is co-taught with Bill's wife Carolyn Patterson, whom I have not met, but already like.
The next workshop will be July 1-12, 2010. For more information please see: www.artworkshopsinitaly.com
This article originally posted on www.arttrav.com.
Press Release: William Patterson, One-Person Show
New York, September 29-October 23, 2004
When speaking of Realist art, one often says that its beauty lies in the details and one knows that it is the details that make up the full picture. But, in the case of William Patterson's paintings, it is more than a picture that is revealed on his canvases and panels, as it is a story. A story beautifully and intricately told, composed of characters that may have been seen as mere objects, only if they had not been painted by William Patterson's hand. In his Still Life pieces, each succulent fruit, neatly folded napkin, haphazardly thrown ribbon and luminous crystal vase are vibrant personages within a story of unforgettable romance and grandeur. In his landscapes, the perfectly sketched planes, the verdant trees, the misty horizon, are all places from the time that moody tale was told. All that is missing from Patterson's flowers is the aroma, and all that is needed to make his fruits come to life, is a touch of their delicate skin. His colors glow, his shadows move and his rooms feel like home.
This October, Patterson will bring us there, to those "Places, Inside and Outside" where his soul resides; the places he calls his own, where his intimate moments are born and his creative spirit comes undone.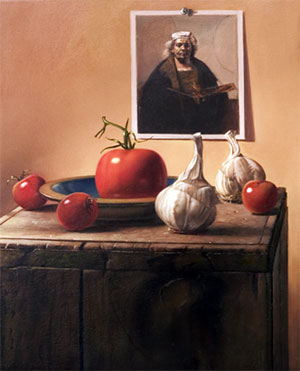 Three, Two, One-Rembrandt Oil on Panel 12" X 16" by William Patterson
Although Europe has been the chief teacher, inspirational source and subject for William Patterson, this year his work is dedicated to the town of Deerfield, Massachusetts. His new collection of paintings consists of personal images relating to places he feels intimate with, some outdoors and some indoors, but all depicted with the kind of meticulous attention to sensually evocative detail, light and composition that have always been the signature of his Realist paintings.

Applying the Italian masters' technique of multi-layering and glazing, Patterson's new collection focuses on the creation of space and air within those "little places" he claims to be " obsessed" with and is, in essence, a collection of painterly poetry singing tribute to these personal sites with arrangement of half tones that " one cannot count" and careful balance of warm and cool Colors.
Patterson created April Morning, a painting where one "feels the air" within the interior Space -a room where a figure in the act of touching a geranium is caught in a contemplative moment too intense to grasp. His images and compositions "creep up" on him and he claims that much time passes before they are completed.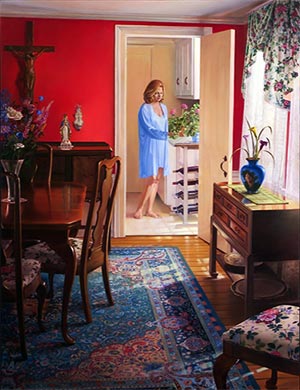 April Morning, 2003 32" X 24" William Patterson
For instance, his April Morning took over five intensely laborious months to complete, and has become the centerpiece of his Spaces Inside collection. The composition for Patterson is " the abstract essence". It is after his numerous studies and drawings are finished that he begins to think about paint and his vision finally comes to fruition.

In his outdoor "places", Patterson explores the poetics of landscapes in various formats, but claims, "I love creating miles of space on a 7-inch panel". The landscape centerpiece of the show is called September Morning and it depicts the Deerfield Pond in Massachusetts-a subject that is familiar to him, but one he claims to have treated more personally this time than earlier versions. September Morning captures a moment when the mist slowly lifts from the land, exposing the barely visible distance. It allows the landscape to become clearer as one's eye moves closer and comes as a reminder to Patterson of an unforgettable moment in his past.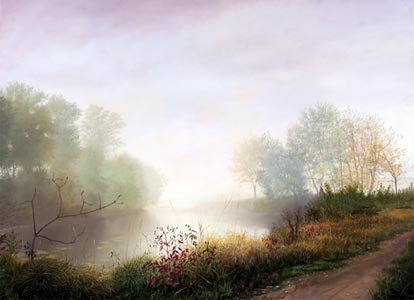 September Morning, 2004 Oil on Panel, 34" X 46" William Patterson
Although known to paint in the tradition of classical Italian masters, Patterson prides himself on combining this traditional technique with his own spirituality and thought. Enjoying a rather unconventional approach to realism, he claims, " A small painting of a beat-up old turnip sitting on a beat-up old box." A piece one would consider a Still Life, - I call a self-portrait" --- Written by Benita Suchodrev, New York - June 2004.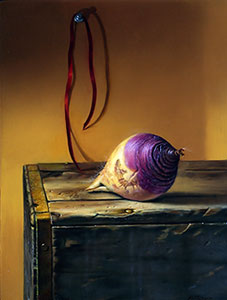 Turnip on Box, 2004 9" x 6.75" William Patterson
Review: Star-Telegram - Texas
Exhibition at Gerald Peters Gallery, Dallas, Texas
February 6-March 20, 2004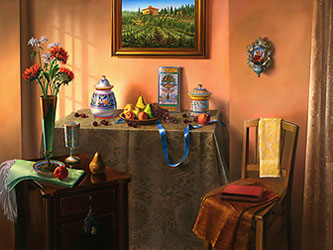 Umbrian Interior Oil on Panel 33" X 44" 2004 William Patterson
"Still-Life exhibit's paintings, sculpture pear up deliciously"
"Still life threads through several rooms of the Gerald Peters Gallery"
---Patterson's contemporary realist paintings tackle old traditions and new thinking, and he is at his best in the still life on view, Pears and Cherries on a Box and Bowl of Fruit-Homage both begin with a weathered, wooden crate covered by a cloth. Highlighted by a deep chiaroscuro, the purple cherries cast their lavender shadows near yellow pears and a lone golden persimmon in Pears and Cherries.
| | | |
| --- | --- | --- |
| | | |
| Pears and Cherries on a Box | | Bowl of Fruit, Homage to Caravaggio |
Next to the humble collection in Homage, the arrangement appears wonderfully indulgent, even extravagant. Homage, on the other hand, seems more life sustaining and substantial in its hearty collection of grapes, apple and pear.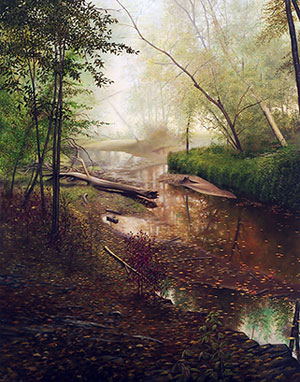 Deerfield River Morning 27.5" X 22" 2004 William Patterson
But in landscape, Patterson's intense study and technique can be domineering, as in September Morning, a massive and misty-eyed landscape that dares the viewer not to fall into the middle of it all. He depends on his exquisite technique as a colorist to carry the view of vibrant, hillside farms in Below Assisi. ---- " Written February 21, 2004 by Peggy Heinkel-Wolfe.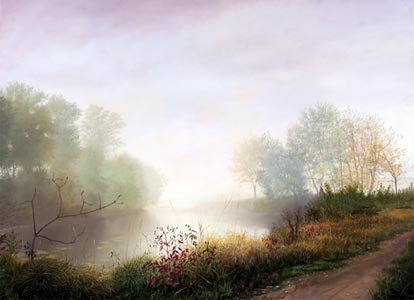 September Morning, 2004 34" X 46" William Patterson
Press Release: "Renaissance Revival"
A One Person Exhibition in New York, 1998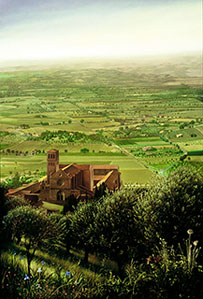 The Basilica of Saint Francis of Assisi 66" X 44" William Patterson
---William's still life paintings capture those precious, fleeting and quietly beautiful moments of everyday life. As the artist says," It is not possible for me to merely pass by these small but profound moments. They represent visually sensual pleasures to which I must respond a prayerful-thank you, and then explore through drawing. By adding colors and rendering tones, I hope to give permanence to the "little moments" that C.S. Lewis refers to as "moments of joy".

Reflected Pear, William Patterson
William's painting technique harps back to the Renaissance, a time in history when traditions were appreciated. In today's fast moving society, these traditions have become a "lost art". For that reason William has painstakingly "ret aught" himself the techniques of the great Italian Masters by journeying every summer to Italy to study their paintings. Assisi, in particular the Basilica of St. Francis, has become a favorite painting location for William because, as he says, " I deeply feel the peaceful presence of this special Saint that permeates the surrounding landscape"---.